BRIEF STARSTM
BRIEF through Boyce-Astro is providing, as its primary education mission, hands-on, astronomy research experiences for students of all ages that result in their publishing peer-reviewed papers and data submission to professional databases. The entry level course in astronomy and double star research has evolved from a face-to-face learning experience with two instructors to an online – hybrid course that simultaneously supports classroom instruction at a variety of schools in the San Diego area.
DoubleSTARSTM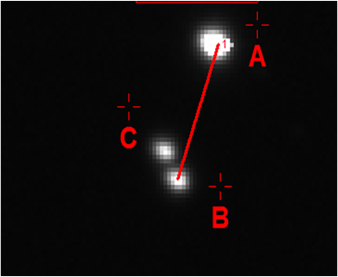 The DoubleSTARSTM seminar is the introductory program for the Boyce-Astro BRIEF STARSTM Program.  Topics of instruction for this first semester course, DoubleSTARSTM, include Kepler's Laws, basic astrometry, properties of light, CCD imaging, filters for varying stellar spectral types, data reduction and statistical analysis. The seminar program provides students real world experience in forming research teams, presenting a research proposal, performing research and analysis, writing a scientific paper for peer review, and presenting their findings for peer review. With this initial experience, the students are prepared to tackle more sophisticated research projects with greater independence.
Over 200 students ranging from 7th grade to 70 have participated in the DoubleSTARSTM seminars. Over 30 scientific papers have been published under the BRIEF STARSTM  program in just over two years. Students have burnished their resumes and loved the experience as they have expressed in comments such as these:
High School Students:
"As a high school student with a passion for science and Astronomy, I feel so lucky to have the opportunity to research under the expert guidance and support of Boyce-Astro. Learning that my research will soon be published has been the highlight of my education so far and will add valuable substance to my college applications."
"The program taught me how to write an academic research paper – from conducting background research, to the proposal, to editing and submitting the paper. Furthermore, it helped me hone communication and organization skills through working and coordinating within a team setting, an aspect of utmost importance in STEM."
Community College Student:
"Being a part of this research group really helped me in three areas of my life: gaining valuable research experience in the science field, learning how to work in a group setting, and networking with like-minded individuals."
Adult Pro-Am Astronomer Online Student:
"This class solidified some astronomy concepts while introducing new ones.  Grady makes it fun and accessible.  Best of all, his relentlessly good attitude makes the challenges less daunting.
A visual presentation of the seminar can be viewed by clicking here: DoubleSTARS Seminar
The seminars are held in high schools and community colleges in San Diego have no additional fee except the normal school tuition. Classes meet weekly once a week in the afternoon or evening as suits the class or school.
For those taking the online seminar, there is a fee of $99 that covers:
all course materials
the robotic telescope time
access and use of the online server and suite of software tools
instruction and support to acceptance of your research paper for publication
one year membership in the San Diego Astronomy Association
Scholarships are available for high school students to cover these expenses. Sign up to receive email updates on the latest news about programs and next seminar availability.
VariableSTARSTM
 The VariableSTARSTM seminar provides an overview of all the classes and types of variable stars and their relationships to the H-R diagram. Essential concepts in photometric filters, measurement of magnitudes, and time series photometry are presented to prepare for observation projects. Students master the use of AstroImageJ (AIJ) software for photometric measurements with practice sets. The tools and data available from the American Association of Variable Star Observers (AAVSO) and other sources are explained. The submission of observations to astronomical databases are presented.
Upon completion of the variable star background instruction, students form observation teams, select a candidate target, and plan their observations. Targets are from the Extrinsic Group of variable stars that include Eclipsing Binaries, Rotating Variables and Exoplanets or other short period variables such as RR Lyraes (see Classification of Variable Stars). Boyce-Astro provides the telescope time and computing services to perform the observations and analysis. Upon review and completion, the teams submit their data to the appropriate astronomical database or, in some cases, prepare and submit a scientific paper for publication.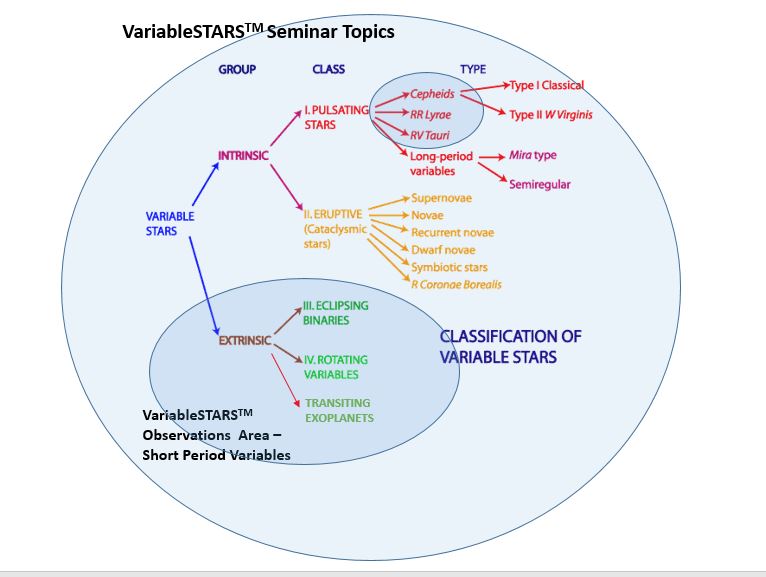 This seminar is not tied to an academic calendar. The instructor will provide the schedule upon receiving an expression of interest – use the form below. Students for the seminar must have competed the DoubleSTARSTM seminar through acceptance of their scientific paper for publication. Included with the $99 course fee is a 1 year student membership in the AAVSO.
AdvancedSTARSTM
After completion of the two introductory courses, DoubleSTARSTM and VariableSTARSTM, students are prepared for more independent projects of their own. Boyce-Astro fosters teams to undertake advanced research assisted by mentors in areas of interest to the students. The instructors or mentors lead short or informal training seminars to start the project.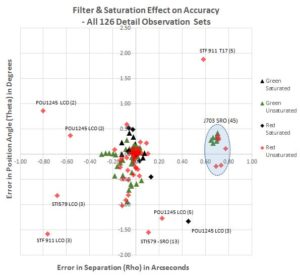 Advanced astrometry project areas include advanced visual double star measurements, speckle interferometry of close doubles and analysis of common proper motion (CPM). Advanced photometry projects can include observation of any of the variable star classes and types as shown. When facilities become available, spectroscopy projects may be considered as well. Students choose their area of interest and the instructors and mentors guide the self-selected teams. Fees vary depending on the nature of the project.
Connect with Boyce Astro!
Signup to receive notices from BRIEF about upcoming classes and seminar opportunities.
[yikes-mailchimp form="1″]