BOYCE-ASTRO / SDAA EXOPLORER PROGRAM
Boyce-Astro (BRIEF) is committed to an exoplanet science program that will encompass both confirmation and discovery. This is an evolving area of astronomy and BRIEF will endeavor to follow the opportunities that arise for research and student enrichment.
 See the January 6 to February 10, 2021 Free Exoplorer Seminar and Register – Click here.
 Our aim was to become qualified and proficient observers under the KELT and TESS programs. We received initial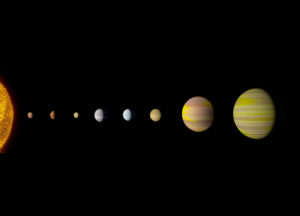 acceptance as part of both science teams. Dr. Scott Dixon has initiated these relationships for BRIEF and the San Diego Astronomy Association (SDAA). Our joint program started with SDAA's TARO observatory and BRIEF's Las Cumbres Observatory (LCO) Education Partner program. 
BRIEF started the student program in February, 2018. It is important that team members become professionally qualified before they observe, analyze and submit data to NASA and the TESS or other program official science archives. To be on one of our teams, a student needs to have completed his / her DoubleSTARSTM paper and submit it to the JDSO.
From that point a student may progress through our ranks as described in this table. There is no requirement to progress all the way to captain. We do encourage team members to at least reach the Lieutenant rank to become a full-fledged Exoplorer.
BRIEF EXOPLORER PROGRAM MEMBERSHIP AND RANKS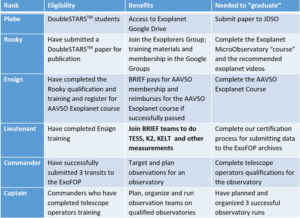 Exoplanet observation teams are formed from the qualified Exoplorers: Lieutenants and Commanders.
The observation program for 2018 is currently defined in two projects under Dr. Scott Dixon's overall direction. Dr. Dennis Conti advises Scott and our teams.
TARO (SDAA/BRIEF) team: Scott Dixon is the PI
LCO (BRIEF) team: Pat Boyce as interim PI; multiple teams may be created here as students become qualified exoplanet observers.
Plans for 2019 and 2020 depend upon observatory availability and the progression on the Exoplorers through the ranks. The BRIEF exoplanet program will adapt to the programmatics of TESS, K2, KELT and other exoplanet observation programs.
BRIEF participates in several exoplanet observation programs and has developed techniques for each an the variety of equipment we have to apply to these observations. Go to this page for more information.