The Introduction to Photometry and Exoplanets is largely self-paced and it is FREE. We will meet four times online over two+ months. The materials will be provided in short video tutorials and the use of online interactive programs: Zooniverse and the Harvard/Smithsonian MicroObservatory. You will learn the basic science behind time-series photometric measurements that may be applied to any variable star observation. The emphasis will be on how to apply these concepts to observing and measuring exoplanet transits. There will be two quizzes for you to assess your progress.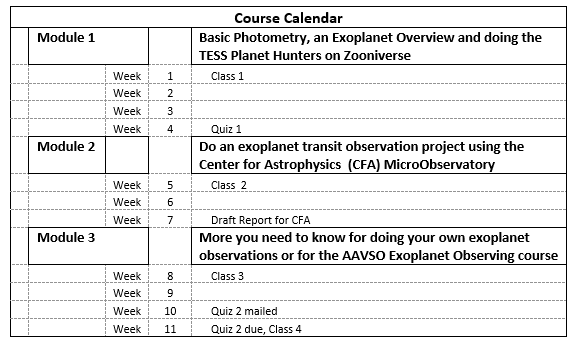 Go here to see more: Course Syllabus
When you have successfully completed the course, you are prepared to proceed on your own or on these two paths that we sponsor:
Jump directly into the NASA / JPL Exoplanet Watch program with us to get your feet wet before going further.
Take to the American Association of Variable Star Observers (AAVSO) Exoplanet Observing four week online course to learn the skills for professional observing with us (or on your own) for programs such as NASA / MIT's Transiting Exoplanet Survey Satellite (TESS)
You may enter this seminar after the IntroSTARS seminar if you have demonstrated observational experience. If not, we recommend that students complete the DoubleSTARS seminar before entering this seminar.
See our annual calendar for the dates when the seminar is held. You should come to the initial online meeting to get your questions answered and decide if you want to continue.
To receive an invitation to participate, email info@boyce-astro.org or let us know your interest clicking here: