The Downing Family Operating Foundation generously donated a PlaneWave CDK17 research grade telescope to BRIEF in May 2022. Located at Sierra Remote Observatory (SRO), the telescope, mounted on a PlaneWave L-500 mount and equipped with a QHY600 camera, will serve as a platform to advance robotic speckle interferometry and astrometry as well as extend the Boyce-Astro exoplanet observation program. The Downing Family Operating Foundation is a Private Foundation founded in 1996 in San Diego, California as a 501(c)(3) corporation. The system has been christened as BARON, Boyce-Astro Research Observatory North.
This donation greatly enhances BRIEF's capabilities to provide student astronomy research and education. Adding this second observatory enlarges the scope of STEM education opportunities, enables greater collaboration with high schools and colleges, and expands BRIEF's participation in scientific research programs offered by NASA, JPL and NSF Such as TESS and Exoplanet Watch.
"BRIEF is honored and excited to accept this gracious donation that strengthens our relationship with the Downing Family Operating Foundation. This new capability will push our Boyce-Astro research and education programs into more advanced areas with higher quality systems and more student participation," said Pat Boyce, Executive Director of BRIEF.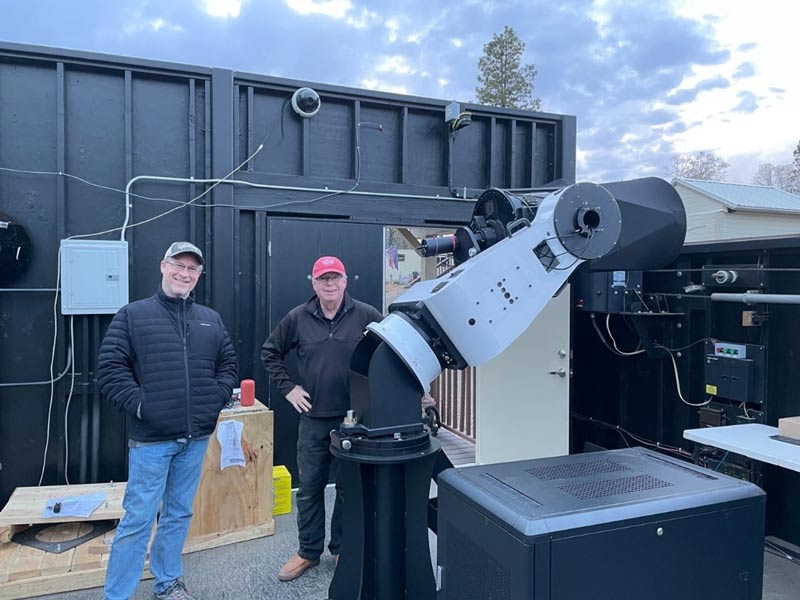 Grady Boyce and John Downing at the BARON installation at Sierra Remote Observatory